La saison 2017-18 a révélé quelques pépites, et ces dernières semblent déjà être devenues des rochers 24 carats ! Ben Simmons, Donovan Mitchell et Jayson Tatum ont impressionné tout le monde lors de leurs premiers matchs de playoffs ! Petit focus sur ces trois beaux bébés.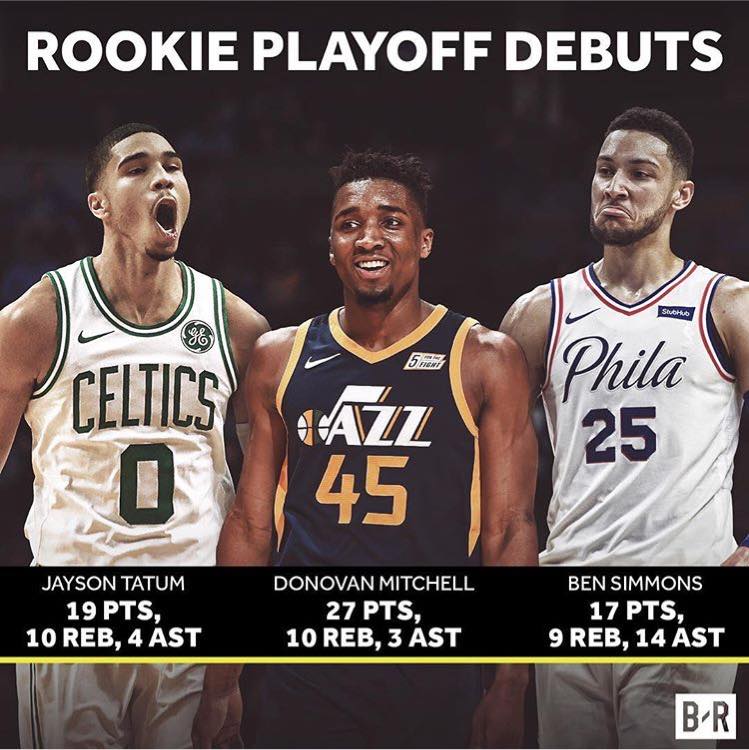 Jayson Tatum, sans pression
Celtics – Bucks est probablement l'une des séries les plus serrées. Alors les absences de Kyrie Irving et Gordon Hayward auraient du être d'énormes manques pour Boston, pourtant ils ont gagné le match 1, en grande partie grâce à leur ailier : Jayson Tatum. 20 ans, première saison NBA et premier playoffs. Résultats : 19 points, 4 passes (meilleur passeur des Celtics), 10 rebonds (deuxième meilleur rebondeur des Celtics).
Dans ce match, Tatum a eu des responsabilités, et la pression ne l'a clairement pas atteint ! Le jeune Jayson a prouvé toute sa valeur, dans un match qui dépendait énormément de lui : des paniers cruciaux, même en prolongations. Jayson, est attendu pour la suite de la série, et possiblement des Playoffs.
Jayson Tatum finishes with 19 PTS, 10 REB, 4 AST in his playoff debut! #CUsRise #NBARooks #NBAPlayoffs pic.twitter.com/5XZfGoG942

— NBA (@NBA) April 15, 2018
Donovan Mitchell, tireur d'élite
27 points, 3/7 à 3 points, Mitchell continue sur sa lancée exceptionnelle. Après avoir battu le record de paniers à trois points marqué par un rookie sur une saison (dépassant Lillard et surtout Mr. « Bang ! Bang ! Baaaang ! » Steph Curry), Mitchell prouve qu'il est fait pour le niveau NBA, en nous sortant un premier match de playoffs sensationnel.
Quand on arrive à être troisième meilleur marqueur du match derrière Paul George et Russell Westbrook, on n'a pas à rougir. Donovan Mitchell a été l'élément clé d'Utah cette année, notamment quand la franchise souffrait, avec un mois de janvier de folie (15 pts minimum à chaque match) et deux performances à +40. 21 ans, et déjà l'attaque d'Utah entre ses mains, Mitchell est sans aucun doute possible prétendant au titre de Rookie de l'année.
Pour ses débuts en #NBAPlayoffs, Donovan Mitchell compile 27 PTS et 10 REB #TakeNote

Le dernier joueur à au moins 25 PTS et 10 REB lors de son premier match de playoffs était LeBron James. [22 avril 2006, 32 pts, 11 rebs] pic.twitter.com/zEX8DvUE5T

— NBA France (@NBAFRANCE) April 16, 2018
Ben Simmons, la machine
Les possibles futurs All-Stars sont légion dans la draft 2017 : Tatum, Markkanen, Ball, Fultz … Mais un rookie semble assuré de l'être très vite, et pourtant il est arrivé en NBA en 2016 : Ben Simmons. Pendant un an, il a soigné une blessure arrivée en septembre 2016, et le voici sur les parquets de NBA. Quasi 16 points par matchs, 8 rebonds et 8 passes décisives, en saison régulière, même Westbrook n'avait pas commencé sa carrière si fort ! Et en playoffs il est déjà au-dessus : contre le Heat, Simmons apporte 17 points aux Sixers, 14 passes et 9 rebonds !
Un match de très haut niveau, dans lequel Simmons a déjà semblé être le leader de cette équipe ! 14 passes, c'est même le meilleur score pour un rookie en playoffs depuis … Magic Johnson en 1980 ! Magic, qu'il avait déjà battu en nombre de triples-doubles pour une première saison (12). Simmons a bien participé au blow-out de Philadelphie, et rien ne nous indique qu'il a fini le boulot.
In their Game 1 victory, the 76ers scored 130 points in a playoff game for the first time since 1986.

According to @EliasSports, Ben Simmons' 14 assists are the 2nd most in NBA history by a player in his playoff debut, trailing Magic Johnson (16 in 1980). pic.twitter.com/JS4EKMiz3M

— ESPN Stats & Info (@ESPNStatsInfo) April 15, 2018
Ces trois-là sont bien partis pour obtenir le titre de Rookie de l'année, mais Simmons (ainsi que la franchise des Sixers) a déjà une bonne avance.
Des stats impressionnantes, pour des joueurs qui débarquent en NBA ! Pour comparer, rappelons qu'un joueur comme Karl-Anthony Towns, après trois saisons en NBA, découvre les playoffs de manière bien plus délicate : seulement 8 points pour son premier match de postseason contre les Rockets.